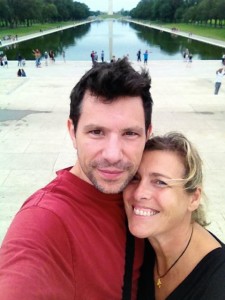 Sandrine Ferst + Alexandre M. Gagnon = FixitFerst
At FixitFerst, we are a husband and wife team dedicated to providing you with the best service you deserve. We have combined our years of experience in different backgrounds to bring unique solutions to your home or business.
While in university, Alexandre started a one-man business doing small installations, repairs and fixes that evolved into a full-time cabinetmaking company, creating beautiful unique furniture in solid exotic woods. Over the years Alexandre also acquired expertise in various trades and fields, learning alongside a master carpenter on renovation projects, working hands-on for an upholstery and custom furniture manufacturer and repairing various things while employed at an high-end and specialized skate shop. His focus has always been on detail, quality and craftsmanship. Alexandre handles the actual handyman work now and will be training all future handymen at FixitFerst.
After graduating from Concordia University in Studio Arts, Sandrine worked in the administration of a local family start-up company providing Internet access. Later, Sandrine traveled the world as a Flight Attendant, working closely with the public. Now, she is back to perfecting her art at Concordia, always a master of color and composition. Sandrine handles the day-to-day organization of FixitFerst, as well as all publicity and design.